Volunteer of the Osanpo Jimbocho team, I distributed today the well-designed 18th Osanpo Jimbocho magazine made in Japan and a related flyer at bookstores, restaurants, a cleaning shop, an art gallery, and the Gakushi-kaikan hotel near Jimbocho station (Chiyoda ward, Tokyo, Japan). Thanks to the whole team, visitors enjoying Jimbocho Book Festival or Kanda Ancient & Rare Books Festival (25 October to 03 November 2014) will learn about the community and local services in Japanese.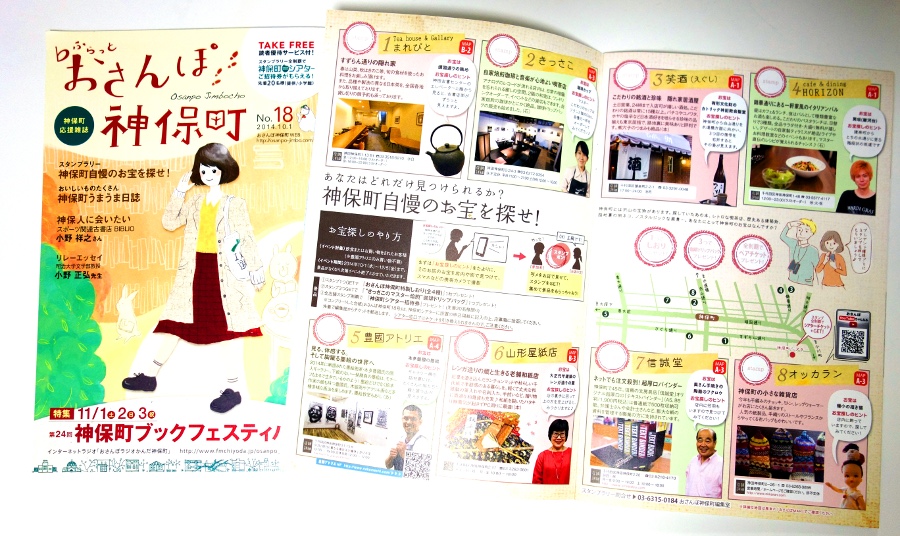 As a local travel agent, I happily walked along the Suzuran and Yasukuni streets on this beautiful autumn day like many Japanese and foreigners speaking in English, Chinese, Korean… I also shared a good time with shopkeepers such as the owner of Mambaken, who joyfully showed me handwritten documents in French including notes by Jean-Paul Sartre and a letter by Napoléon!
The Osanpo Jimbocho team will soon resume its meetings to prepare the Spring 2015 magazine, to be distributed before the Suzuran Matsuri 2015.