Voyage de Renaissance…生まれかわりの旅…
For ☑ Spiritual people ☑ Nature lovers ☑ Vegans & Vegetarians ☑ Travel agents ☑ Japan fans.
The Japanese guide Shinobu Nimura and travel agency Shiki-no-tabi invited me to test their new "Umare-kawari-no-tabi" Rebirth Journey tour featuring the "Dewa-sanzan" 3 Mountains of Dewa (Yamagata prefecture, Japan) as non-Japanese certified tour guide and expert in Japan inbound travel. For 24 hours in summer 2017, I accompanied a group of Japanese tourists going to meet the gods… then made this video with texts in English, French and Japanese. This is my first "silent" film!
The 2446-step stairway was tough but I appreciated:
Destinations difficult/tiring to access by oneself.
Surprising experience at Yudono Shinto Shrine, where filming/photographing is strictly forbidden (go & see with your own eyes!).
Meeting a yamabushi mountain priest.
Wearing the white pilgrim outfit.
Shojin-ryori Japanese traditional vegan food.
Five senses stimulated: climbing a rock barefoot in a hot spring stream (not shown in the video), hearing a Triton's trumpet, savouring local seasonal vegetables/dishes, smelling mountain flowers and incense, seeing various holy designs…
This bus tour is (1) particularly valuable for travellers & residents wanting unique experiences related to the Japanese nature and Shinto religion, (2) attractive for travel agents as it is a 24-hour tour removing the cost of lodging for a night, from/to the major gate Tokyo Shinjuku, and (3) great to promote Japan as a tourism destination because it features the unique Mountains of the Past, Present & Future!
Would you go to enjoy nature, relax and develop your inner self? Your comments/shares are highly welcome 🙂
Learn more
Film-making: 3 Holy Mounts of Dewa
https://linkedin.com/pulse/film-making-3-holy-mounts-dewa-sébastien-duval/
Tour Review: Shiki-no-tabi's Rebirth Journey
https://linkedin.com/pulse/tour-review-shiki-no-tabis-rebirth-journey-sébastien-duval/
Useful links
Sébastien Duval
http://sebastien-duval.com/en/
Shinobu Nimura
https://facebook.com/shinobu.nimura
Shiki-no-tabi
https://www.favorite-japan-guide.com
Miyatabo (Japanese only)
http://miyatabou.com
Hiromasa Miyata – Speaker at Miyatabo
https://facebook.com/bu9use
About this video
Title: Rebirth Journey: Self, Nature & Gods at Dewa-sanzan (Japan)
Filmed on: 11 August 2017 ("Mountain Day" Japanese public holiday)
Video maker: Sébastien Duval
URL: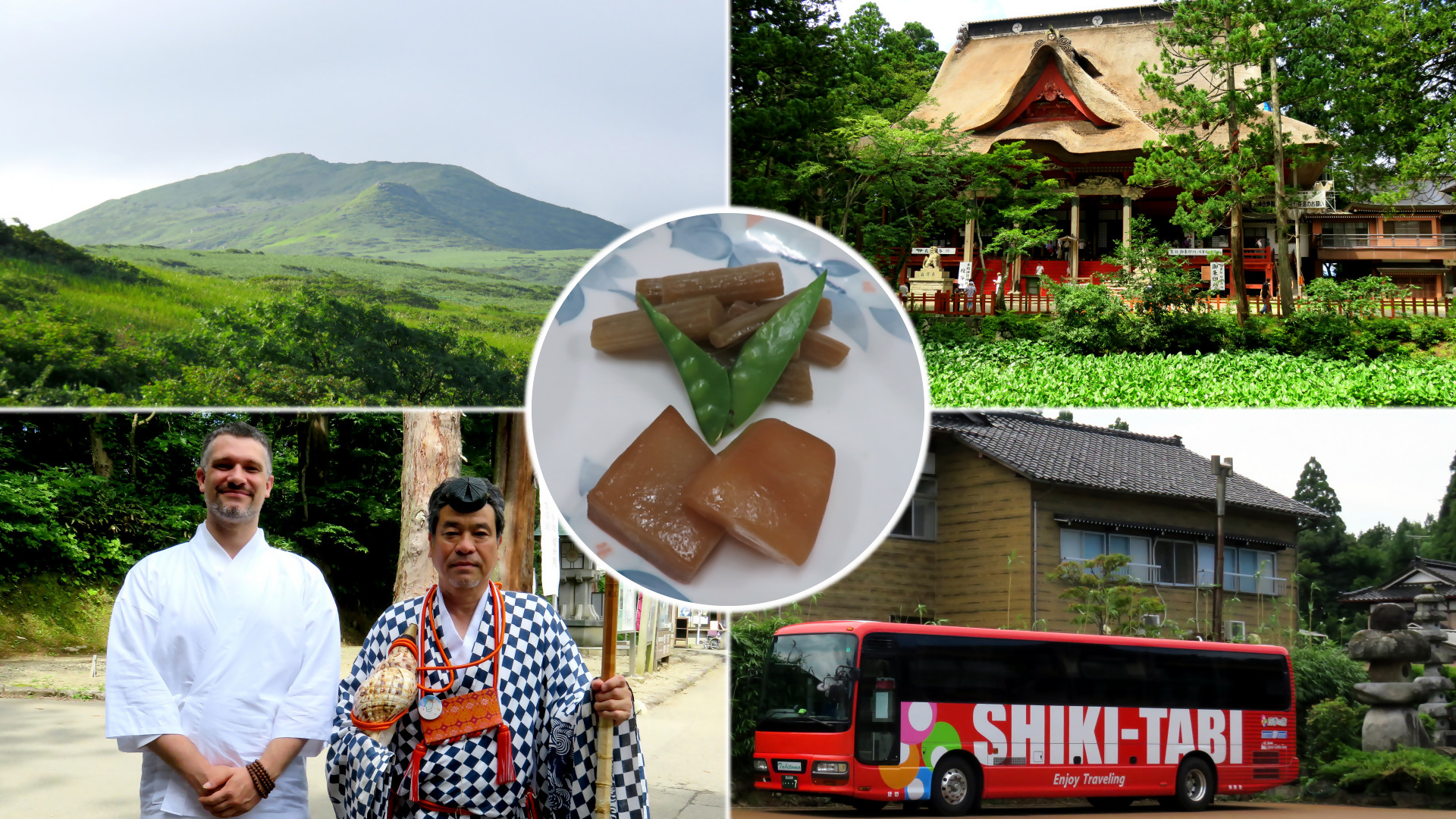 Subtitles
English language:
Tokyo – Yamagata
To the 3 Mountains of Dewa…
Mountain of the Past
Mount Gassan
Gassan Shinto Shrine
Yeaaahhh !!!
Mountain of the Present
Mount Haguro
Miyatabo temple lodging
Vegan breakfast
Excellent 🙂
Haguro-shozenin-koganedo (Buddhist temple)
Enma, king of the underworld
Dewa Shinto Shrine
Sébastien + "Yamabushi"
Mountain of the Future
Mount Yudono
Thanks to our guide Shinobu Nimura and to Shiki-no-tabi travel agency for inviting me to this "Rebirth Journey" tour!
Rebirth Journey: Self, Nature & Gods at Dewa-sanzan (Japan)
Sébastien Duval, filmed on 11 August 2017
Music
Title: Night Vision
By: Bird Creek
Source: https://youtube.com/audiolibrary/music
Keywords
Sébastien Duval, Rebirth Journey, tour, bus tour, nature, summer, flowers, mountains, mount, Gassan, Haguro, Yudono, Dewa, Sanzan, Yamagata, Yamagata prefecture, Japan, yamabushi, Buddhism, Shinto, shrine, shojin-ryori, vegan, vegetarian, vegan breakfast, breakfast, meal, food, vlog.