Invited by SGRS Tourism Agency to test its tours for foreign tourists in Tokyo, I enjoyed this afternoon a fun Sweet & Sound Cruise on the Sumida river and a Walk with Geisha in Asakusa area then attended its business presentation and a funny show (see next post). As a tourism professional and former preschool teacher, I believe these tours will be great once refined, providing fond memories of Japan to Western adults and children alike! I now look forward to a walk with a Japanese warrior, ninja or samurai 😉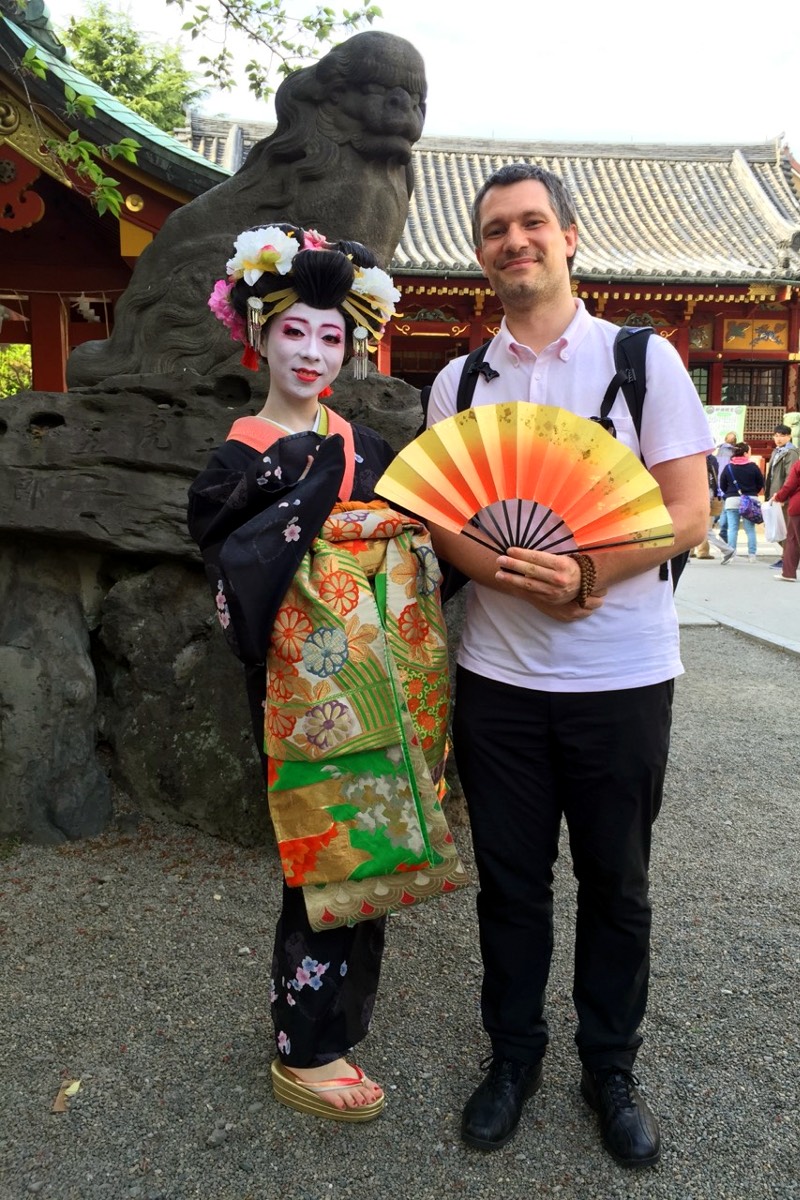 I had a great time all along: Ken (from Hawaii) and Miki (from Japan) sang in English and Japanese during the cruise while Oui played the piano and Nanako the violin, Harusa (from ???) guided us in the streets of Asakusa accompanied by the "geisha" Otoki-san… Bilingual and wearing a kimono, Harusa motivated us to look for statues on rooftops (e.g. the thief Nezumi-kozo) and portraits of Japanese movie stars (e.g. Takeshi Kitano), touch a giant straw sandal at Senso-ji Buddhist temple, pray under cherry blossoms… Under a big blue sky, we took splendid photos of Odaiba island from the platform of our boat as well as cool photos with the staff here and there 🙂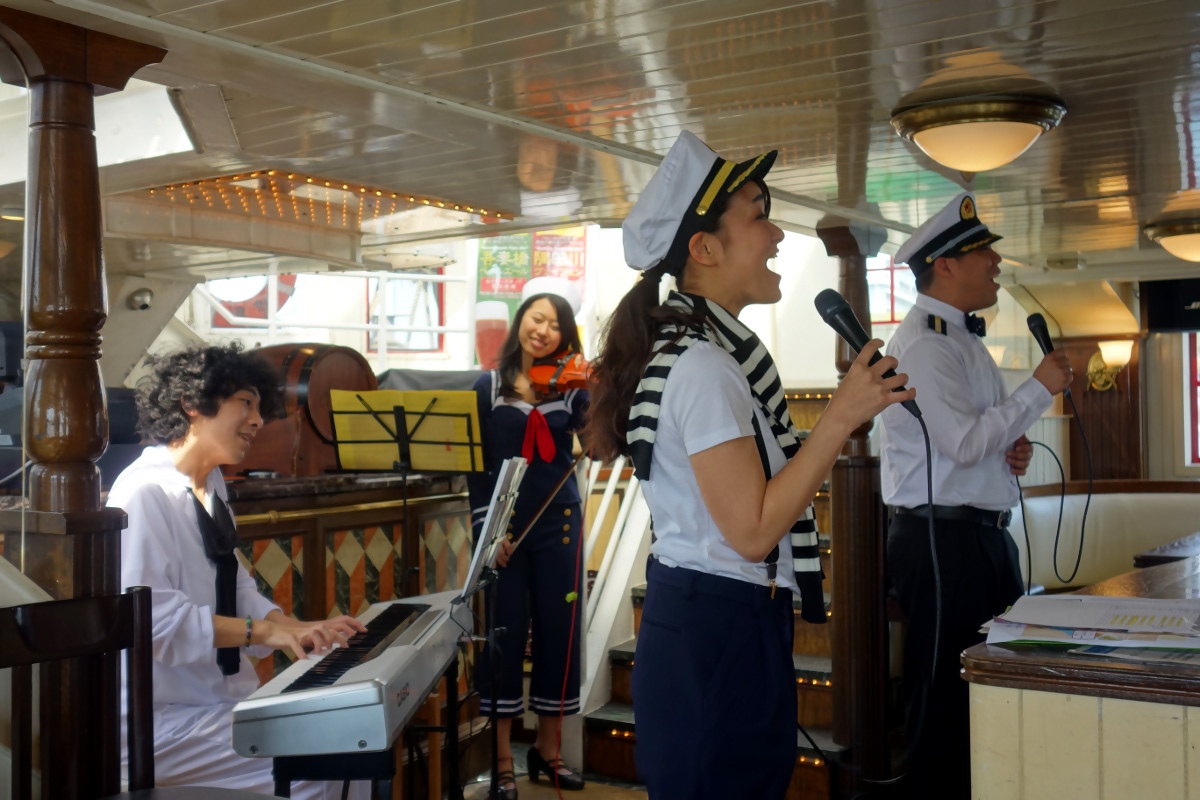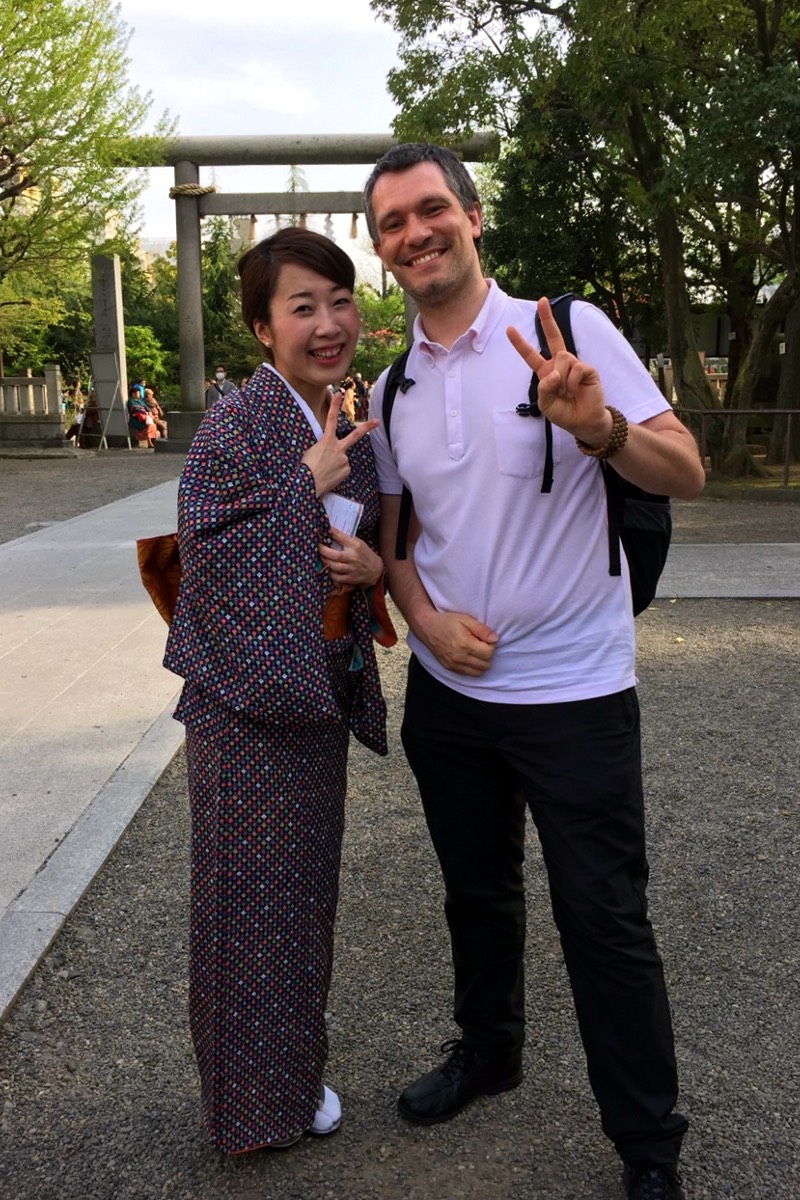 The cruise is fine for Westerners but would be even more exciting with albums containing old maps, photos or ukiyo-e woodblock prints placed on the tables, with sale of traditional Japanese sweets/snacks like wagashi and karinto (plus a list of ingredients for allergic travellers), and with more Japanese songs (adding a lullaby would be great to transmit the Japanese culture).
The walk requires a method to avoid losing participants in the crowds and to prevent interruptions by bystanders jumping in for a photo with the geisha! To enhance the tour, the guide may bring a piece of kimono fabric to freely touch and may introduce holy seals at the last spot (Asakusa Shrine): watching a Shinto/Buddhist calligrapher write a goshuin is amazing but few Westerners know that! Finally, the guide may give maps introducing local restaurants and shops (see the Get Japan maps for examples).
I hope this feedback will help SGRS Tourism Agency make a better world, happier people 🙂 I just e-mailed the team!